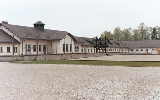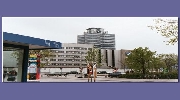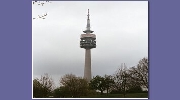 Waking up at 2:30AM with nothing to do but watch the only channel in English (CNN) and then not being able to fall asleep until around 5AM sucks big time. When we finally got moving around 11AM, we took the train to Dachau, the concentration camp. The train ride was easy enough to get connections to and then we had to take a short bus ride to the camp. We really were beginning to find the trains easy to figure out, despite the language barrier. The camp was of course sombering, but interesting. It wasn't nearly as bad (if there are degrees of bad with concentration camps) as Auschwitz. I believe Auschwitz was one of the ones where the most people were killed. Dachau was more for political prisoners although near the end of the war it had all kinds of people there. A film is shown at fairly regular times, in English and German.

When we came back and got some lunch, we discovered that we had alot of time left that afternoon so we went to see the BMW museum. Again the train took us right there. The stop is for the Olympic Park. Once you exit the train station you can't miss the BMW towers dominating the sky. The museum was kind of a disappointment for me. I was expecting more classic BMW's, especially race cars. However, the museum is really geared toward the everyday, non-enthusiast. Most displays have audio recordings where you can plug your headphones in and hear an audio track (in English) explaining things like how anti-lock brakes work, why BMW's are safe, blah blah. Booooring. They did have an '02 Turbo, M1 procar, 3.0CS, and some pre-WWII BMW's. The format of the museum is.....interesting also. Its a big circle that spirals upwards. You have to see it to understand it. The gift shop is fairly good though. Lots of neat posters (that I wish now I had purchased), die cast models, old brochures (I picked up a dealer brochure on the euro E12's that was neat), and post cards galore. Prices are reasonable.

The rest of the evening was spent preparing for getting to the European delivery pickup center the next morning. As it would turn out, we didn't get there until later than expected because the hotel employees gave us directions to the Munich BMW dealership instead of the Euro delivery center.